If you already own Body Armor… GOOD.
Keep reading to learn how to improve your body armor easily – right now!
1. Customize your armor & add patches for less than $8!
You can DIY and add patches anywhere by getting double sided adhesive velcro at Home Depot for $8.
Stick the Velcro where you want a patch to stay (like  on a vest or a backpack) and in seconds you are ready to add custom patches.
2.  Use different carriers to save money and go from overt to covert!
Switch your panels between carriers (Tactical, Concealable, First Response) instead of buying several vests.
For example, a new concealable vest costs $449, but you can buy just the carrier for $79 and use the panels you already own, saving you $380!
3. Gained some weight? Not a problem. Get side armor instead of changing sizes. 
The lifespan of all soft body armor is 5 years. If you are like most people, you will gain and lose a few pounds during that time.
Instead of buying new body armor in a bigger size, save money and get side armor for under $50 to cover any gaps.
(Learn how to use side armor by clicking here.)
4. Make payments on Rifle Plates. 
Rifle plates don't come cheap – but they are 100% necessary for rifle protection.
Use a payment plan and get rifle protection for a first payment of only $42!
(These plates are mosaic tile and protect against 30.60 Steel Core AP Rounds!)
5. Look on YouTube for bulletproof vest discounts and coupons.
YouTube is one of best search engines on the internet and it can help you SAVE MONEY.
Many YouTube influencers hide coupon codes and gift cards inside their videos.
Tommy of Free Field Training offers a coupon code that can SAVE $50-$100 on a vest.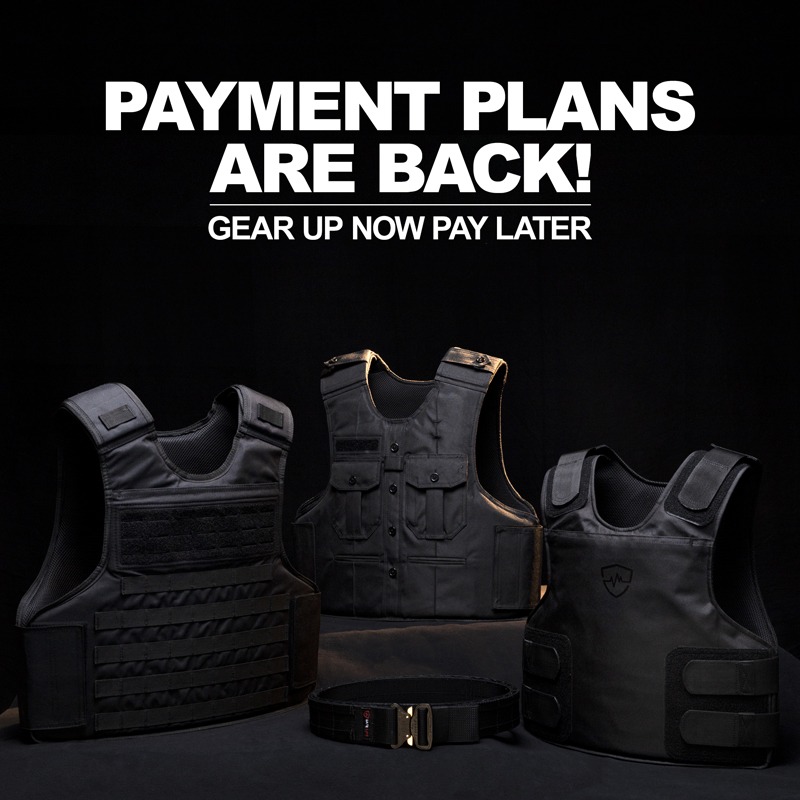 6. Use a payment plan that promises ZERO interest and is customer friendly.
If you have body armor that is older than 5 years, don't upgrade…
Get  NEW body armor.
Choose a payment plan that is no interest, no credit check, and is easy to use like the one on www.SafeLifeDefense.com  (You can select the payment plan in your cart.)
Before you go, remember this:
Saving money is important but NEVER buy cheap gear that doesn't fit well.
ALWAYS INVEST in body armor that doesn't cut corners and is multi-threat!
Get a vest that protects against handguns, shotguns, strikes, slashes, stabs, tasers and armor piercing rounds like Safe Life Defense Multi-Threat Armor.
Safe Life Defense Armor is guaranteed to fit well (you can exchange your size within 30 days as many times as needed) and gets great reviews from Law Enforcement, EMS, and Security professionals.
You can learn more about Safe Life Defense by clicking  HERE.