Posted by Morgan Hallenbeck on 26th Jul 2021

It's no secret that our Flexible Rifle Body Armor Vests have been hot sellers! After years of research, ground-breaking innovation, grueling testing and extensive certification we were finally ready to bring this life-saving product (and others) to market. It's in our nature to go for the gold, but we wanted to be 100% sure that we were putting the absolute best protection equipment out into the field for use. The results? Safe Life Defense's products have stood up to the ultimate tests and saved lives in the process.
We're proud to have created industry-leading safety tools and accessories for not only professionals but families and law-abiding citizens too. Whether you're a police officer, EMS worker, government official or hunter, you'll quickly find that the uses and practical application of body armor in your life are endless. We're bigger, better and bolder than ever … and we'll always have your back when it comes to stopping everything from blades and bullets to blunt-force trauma (high impact situations that result in damage to the body like car accidents, physical assaults and falls).
The Proof Is in the Plates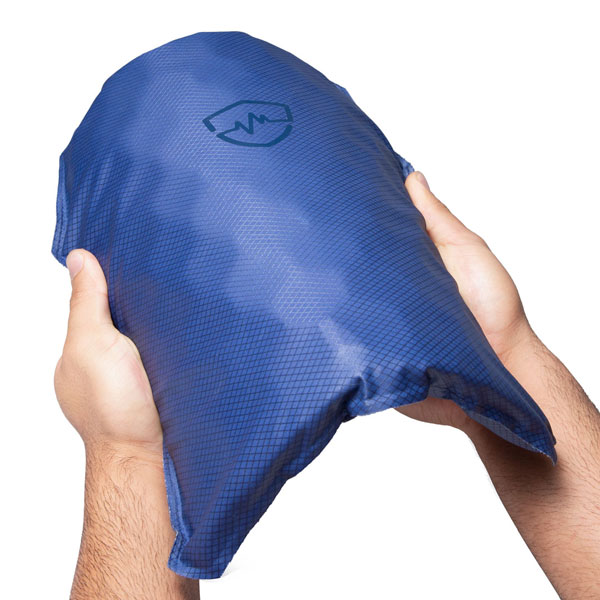 Having designed one of the most versatile and comprehensive body armor vests on the planet, we felt the need to create its' perfect match. And that's why we'd like to introduce you to our brand-new 10×12 Flexible Rifle Plate, which was created from the exact same material that's in our Flexible Rifle Armor System, also known as FRAS®, Vests. Either style will work seamlessly as a replacement for uncomfortable and impractical hard plates.
Although hard armor used to be the best form of rifle protection, that no longer holds true. With the introduction of flexible body armor, we can now bridge the gap between optimal safety and the utmost comfort. Just like soft armor, our Flexible Rifle Armor covers more of the torso, offering increased protection. It's truly innovative and maintains excellent back-face signature ratings. That means when testing, it meets the NIJ standard for 44mm deformation after impact. It can even be used with soft armor, and that's safety at its finest.
A Flexible Rifle Plate Rundown
Truly flexible rifle armor is something many of us could only ever dream of in previous years, and now it's here. Unmatched by any other product on the market, our Flexible Rifle Plate hugs all your curves and edges just right. It conforms to your unique shape and needs with the comfort of soft armor at its' roots. And with additional protection against handguns, shotguns, strikes, and slashes, along with stabbing and Taser resistance, it's something you can get excited about.
Want to take a closer look? Check out the video below!
For those of you looking to get into the details of how this plate stands out from the rest, here's a quick list of must-have features:
A standalone, multi-hit rating for .223/5.56, SS109, XM193 and 7.62×39
A multi-hit rating of Level III+ for .308 and 7.62x54r when used in conjunction with (ICW) IIIA or IIIA+ armor
An NIJ safe zone of 44mm BFD blunt-force protection
A spike rating of NIJ Level 3 that withstands up to 65 Joules of Force
A minuscule weight of just 3.97 lbs and a 0.73" thickness for a comfortable 12+ hour wear
Use Options and Versatility
This Flexible Rifle Armor is truly a "multi-functional" piece. So, if you've already collected a couple of protection options, no worries! You can pair this plate with what you currently have to increase your protection level or just mix things up. Either way, the options are endless! Below are just a few methods you can use.
Pair It With Your IIIA+ Vest: For maximum protection, you can use this 10×12 plate in your IIIA or IIIA+ Vest plate pocket to achieve level III+ protection against threats up to .308 & 7.62x54r.
Use It as a Standalone: If light and agile is what you're looking for, this plate can fly solo in your favorite carrier for protection against common .223 and 5.56 rounds (including Green Tip, M193, M855, SS109 as well as 7.62×39 lead core ammo).
Stick It in Your Bag: For protection on the go — whether it's for yourself or a loved one — simply insert your plate into any backpack or bag. As the lightest and most protective armor of its kind, size and strength will never be an issue again.
On top of all this, you can choose from a single or 2-pack option! Our 10"×12" plates are for Safe Life Defense vest sizes XS and larger. And our 8″x10″ plates for Safe Life Defense vest sizes 2XS and smaller.
Buy With Confidence
At Safe Life Defense, we stand by our products, and supporting our customers with the best service is equally as important to us. After all, we see body armor and plates as an investment because it saves lives. That's why we offer a 30-Day Fit and Satisfaction Guarantee, as well as a 5-Year Warranty and Incident Guarantee.
Should you need any assistance, our friendly and knowledgeable Customer Service Team is standing by Mon-Fri: 9 am to 5 pm (PST) and Saturday: 10 am to 2 pm (PST). Whether you have payment plan questions or need help figuring out which body armor system is right for you, we've got your best interests at heart. Just use the information below and we'll get back to you as soon as we can.
Ready to Connect? We're Here for You!
Online: SafeLifeDefense.com/contact/Email: Info@SafeLifeDefense.comPhone: 702-829-4029