Posted by Katherine Myers on 7th Jan 2017
What is The Guardian Angel program?
The Guardian Angel program donates Safe Life Defense body armor to people in need; it is all about celebrating and protecting the selfless individuals who strive to make the world a better place!
Safe Life Defense ambitiously started out with the goal to make affordable, high-quality body armor.
President Nick Groat is amazed by the positive response his company has received:
"We have always been about making our product accessible to as many people as possible. Everyone should be able to feel safe. We knew there was a huge need for premium body armor, but we never anticipated that our product and brand would turn into something bigger."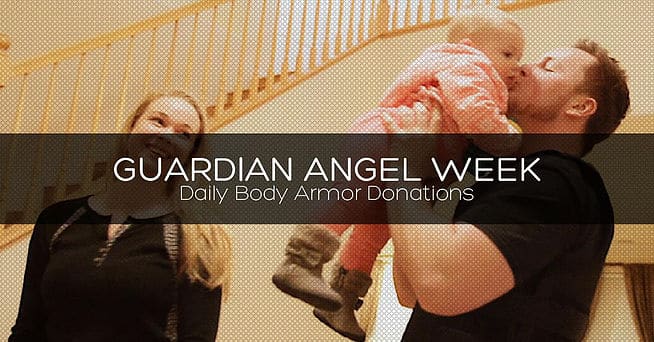 Something bigger? Perhaps that is an understatement, Mr. Groat. The "wild-fire" spread of Safe Life Defense can be attributed to your unwavering commitment to social and corporate responsibility and, most notably, The Guardian Angel Program.
President Groat enthusiastically explains the impact of his company:
"The Guardian Angel program is the philanthropic manifestation of the Safe Life Defense mission: to protect and save lives.
We receive thousands of applications from people who need body armor, and the more my company grows, the more we can donate.
If you purchase a Safe Life Defense Product you not only receive premium, multi-threat body armor, you also support a company that is donating body armor and promoting safety.
Recently, a customer made a point to call me and say he was donating his old vest once he received his new Safe Life Defense vest – that showed me that we are helping people help people on multiple levels. The Safe Life Defense emblem has become a representation of personal responsibility, it is so much more than high quality product."
How do you become a Guardian Angel?
Everyone who believes they need Safe Life Defense body armor is encouraged to apply. The program is partly need-based, but its driving consideration is a quote from Gandhi:
"Be the difference you want to see in the world."
With thousands of applications to look through, and the strong held belief the EVERYONE deserves to feel safe it is nearly impossible to choose recipients. The final deciding factor? The inspiration of hope. Safe Life looks for positive and proactive applications that show that the vest donation will benefit more people than just the one person who is wearing it.
You can apply to The Guardian Angel Program Here
Who did Safe Life Defense Choose? The first Safe Life Defense Guardian Angel Week!
For the 2016 Holiday Season, Safe Life Defense did a week of body armor donations.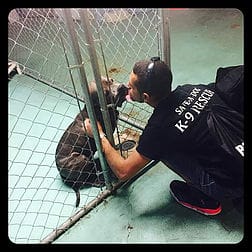 John Spatafora
This man is working towards creating his own non-profit to save dogs from fighting rings. He is saving dogs, finding them homes, and he risking his own safety to do it.
"Hello, my name is John Spatafora and I run an emergency Animal Abuse Rescue called SAVE-A-DOG STREET RESCUE. What I do is I save and rescue dogs from abusive homes and dog fighting rings and crack houses. I bring them to vets (paid for by me), get them all fixed up, then I train them and find them new safe homes. I save on average 20 dogs a week… I do work alongside the police as well as the SPCA… And even though I know I could get shot or stabbed on any on my next rescues, I HAVE TO KEEP FIGHTING AND SAVING THESE DOGS! This is a FREE service I offer and I am in the middle of BECOMING A NONPOFIT CHARITY. If I am able to save to just a few lives and find them new safe homes, then I have done my job."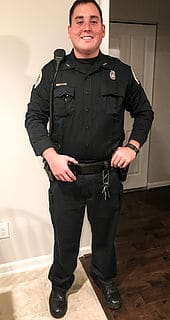 Alex Adkins
Alex is an ex-nurse turned law enforcement officer. He is genuinely altruistic and wants to help heal the divide between law enforcement and civilians.
"Before I became an officer, I was a registered nurse. I decided to change professions because I felt the need to be on the front lines helping change my community for the better in a more direct way. I strive everyday to be the best I can be and make people's lives better. As you know, lately perception of law enforcement has taken a turn for the worse, and police are becoming targets of attack more and more frequently. This is always in the back of my mind, but I want to go out every shift to try to change that perception and show the world that good officers are here for them."
Edward Hart
This gentleman's video application says volumes. He is a good person doing his best to make a difference working both armed and unarmed security.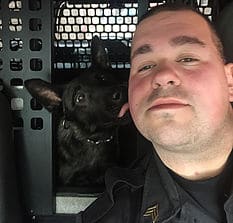 Brian Fernandes
Brain wears many different hats working as a K9 handler and as an EMT volunteer. He loves giving back to the people he protects.
"In addition to my role as a Supervisor and K-9 Handler with MPSS, I am also a volunteer Emergency Medical Technician for a local EMS agency. Do you see a trend here? I love giving back to the people I serve."
See Brian Fernandes's Story ->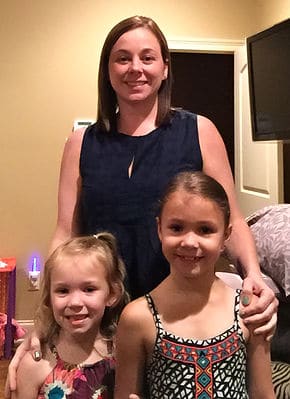 Jenny Elkins
This brave woman works as a paramedic in Baton Rouge, LA and works to provide for her two daughters as well as raising awareness about how paramedics should not be left unprotected.
"As a paramedic, we are not looked at as having a hazardous job. We are the forgotten part of public service."
THE NEW YEARS RESOULTION PLEDGE! Join team Safe Life Defense and make a difference!
As Safe Life Defense moves into a new year, the company has taken inspiration from its customers, fondly referred to as Team Safe Life Defense.
Anyone who pledges to donate their old body armor to someone in need upon receiving their NEW Safe Life Defense vest will receive a Safe Life Defense T-shirt so they can show their support for the brand and mission.
To take advantage of this upcoming event, dubbed "Pay it Forward 2017", please check the Safe Life Defense Facebook page and website during the last two weeks of January 2017!
Safe Life Defense makes the only bullet, strike and slash resistant vests on the market! At only $399 our high quality concealable vests are incredibly affordable. With full side protection our vests offer 15% more coverage than our competitors! Sizing is available from Extra Small to 4XL to fit nearly all body types. For those who simply cannot afford the protection they need, we provideo ur armor at no cost through The Safe Life Defense Guardian Angel Program.
Phone: 702.829.4029
Email: Nick@safelifedefense.com
www.SafeLifeDefense.com
Have any questions? Contact Us!