Posted by Nick on 22nd Dec 2016
Dear Alex Adkins,
The team at Safe Life Defense loved reading your application; we are proud to name you the 4th recipient of Guardian Angel Week! Thank you so much for your service to your local community and your positive attitude.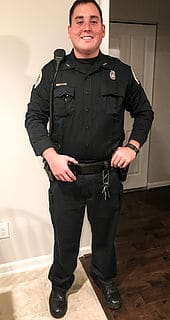 The continued hope that you have in our country and citizens proves that we can heal this divide:"Before I became an officer, I was a registered nurse. I decided to change professions because I felt the need to be on the front lines helping change my community for the better in a more direct way. I strive everyday to be the best I can be and make peoples lives better. As you know, lately perception of law enforcement has taken a turn for the worse, and police are becoming targets of attacks more and more frequently. This is always in the back of my mind, but I want to go out every shift to try to change that perception and show the world that good officers are here for them."
It is our hope that you will wear your new vest proudly and continue to spread your infectious hope and faith in America. Safe Life Defense hopes that our country can begin to heal and start creating healthy relationships with our law enforcement. You are part of the change we wish to see in the world. Thank you, and we are honored to have you represent Safe Life Defense!
Please contact us by email or phone as soon as possible so we may assist you with the sizing your new Safe Life Defense armor!
Merry Christmas and Happy Holidays on behalf of the entire Safe Life Defense team!
Sincerely,Nick Groat President
Safe Life Defense is proud to announce Guardian Angel week! From December 19th to 23rd we will be donating a vest a day to Guardian Angel Applicants.
Thank you to everyone who has supported Safe Life Defense! Since day one, I knew that through your support we would turn this company into something special. I'm honored to be able to give back to those in need. I could not be more proud of the community that all of you have helped build.
Merry Christmas and Happy Holidays!
-Nick Groat
Safe Life Defense makes the only bullet, strike and slash resistant vests on the market! At only $399 our high quality concealable vests are incredibly affordable. With full side protection our vests offer 15% more coverage than our competitors! Sizing is available from XXS to 4XL to fit nearly all body types. For those who simply cannot afford the protection they need, we provide our armor at no cost through The Safe Life Defense Guardian Angel Program.
Have any questions? Contact Us!
Phone: 702.829.4029 Email: Nick@safelifedefense.com www.SafeLifeDefense.com