July has been a real scorcher – so let's do something cool and announce our Guardian Angel Winners!
All of our Guardian Angels this month will receive a FREE Concealable Multi-threat Vest Level IIIA. This vest protects against all the most common handguns, shotguns, strikes and slashes, while still being comfortable and easy to wear.
Help us congratulate Bill, Sydney & Joe!
#1 Bill Shiflett
Law Enforcement Officer
My name is Billy. I've been a cop going on 29 years in the City of Baltimore. The meaning of the name Billy is protector. I've been protecting since 1994. I went into the military at 17…protecting. I retired from the reserve in 2013, after 28 years service and 6 deployments to Afghanistan and Iraq…protecting. I wear body armor daily to protect myself, while I protect others. On July 15, 2019, an active shooter at a Methadone Clinic in Baltimore claimed the life of a medical worker, and if not for the quick actions of myself and other Officers, others many other innocent people would have been killed as well. The assailant carried a manifesto professing his desire to kill as many people as possible and 34 additional rounds of additional ammunition. I would be critically injured in the shooting. I received a gunshot wound to the abdomen. The .357 bullet went below the ballistic panel, entered my abdomen and perforated my small intestine and bladder. It would lacerate my spleen, break L4, break my pelvis and lodge behind the right ball of my right femur, where it is today. Despite being shot in the abdomen, I continued the gunfight with the suspect, because the only option that day was to fail. And I'm not sure I knew how to fail that day.
I have a do not quit attitude. It took nearly a year and two surgeries to come back from the shooting. I am now a lieutenant…after being recently promoted from Sergeant. I was a Sergeant at the time of the shooting. I lead from the front. The officers that I lead will follow me anywhere, because I lead from the front. I espouse patriotism, selflessness, duty, honor and a sense of courage that is missing generally in today's youth. I'm rebuilding what's missing…one small section of Baltimore at a time.
Owning body armor allows me and my Officers the the comfort to know that there's an added level of protection that along with our tactics and skills, may help us survive a situation that may not be otherwise survivable.
I plan to be in the field of emergency medicine for the rest of my life. For me, that means working the streets of the second most populated city in the state of Iowa for a very long time. Not only do I love my job and what I do, but my career field is so desperately needed right now that I hope to be around a long time and help as many people as I can. I am unable to help people and stick around for years to come if I'm injured, or killed for that matter, in the line of duty. I'm 18 years old and just starting out my career in EMS. I have a whole life of aiding people during their emergencies, hard work, and -unfortunately- hazardous situations ahead of me.
Owning body armor to me, means that I can continue to show up to work and give my patients my all. I never want to walk away from someone thinking I could've done more for them, and owning body armor would mean that I could feel more confident around patients and the community to help as much as I physically can. Wearing body armor doesn't eliminate all risks, but it sure helps and could save a life. Although I hope I never need body armor, I would be so incredibly grateful to have it.
#3 Jovan Radenkovic
Law Enforcement Officer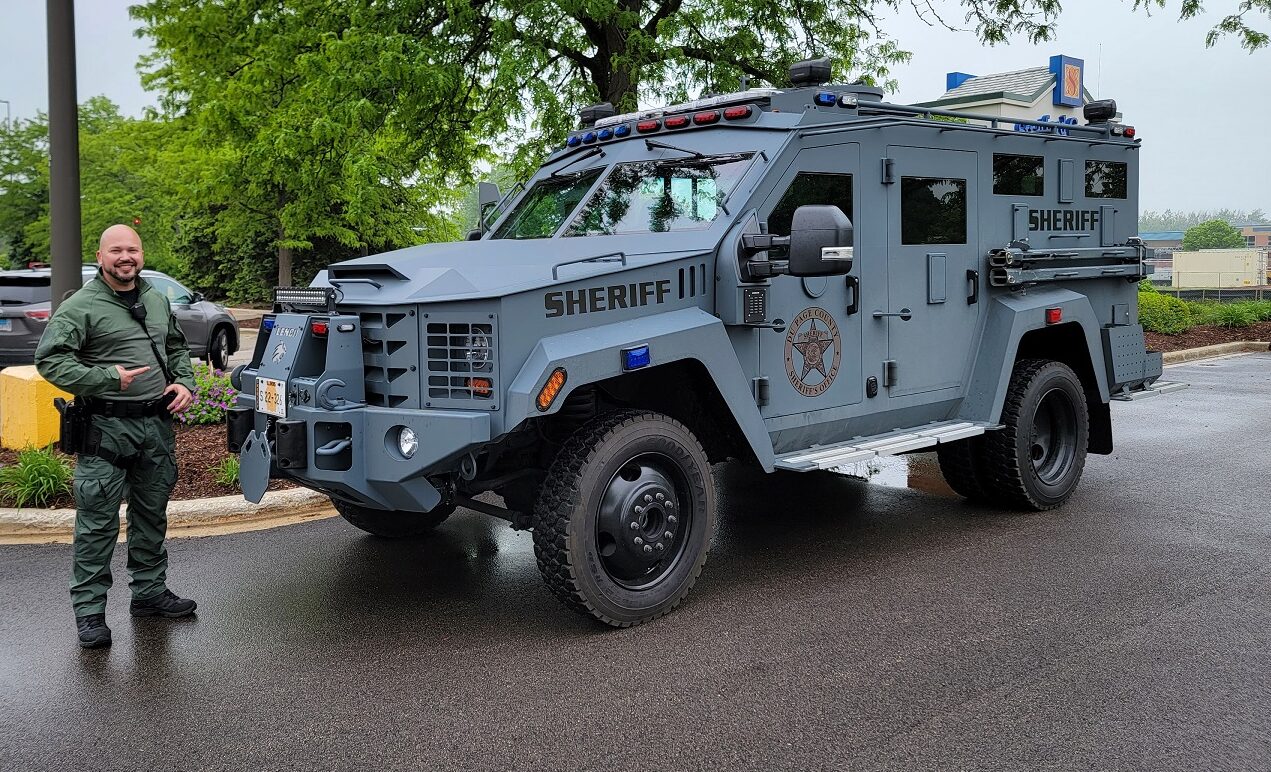 I was born in Chicago Illinois and grew up in a war torn country in the former Yugoslavia in Eastern Europe. When I was 9 years old I was in the middle of a civil war and stuck there for almost three months during the fighting and bombings. When I was in my late 20's I served in the United Stated Army as a Military Police Correctional Specialist and was honorably discharged in 2013. I've been working in law enforcement and Corrections for 7 years total . I'm currently a sworn Deputy Sheriff in Illinois. My entire life all I ever wanted to do was serve and help people any way that I could.
I have been working with the DuPage County Sheriff's Office for almost three years. Last month in May of 2022 I was hired as a collateral assignment to work with the DuPage Metro SWAT Team as a driver. I am on call 24/7 365 and currently only have a bullet proof vest rated for pistol rounds. Safe Life Defense Body Armor is highly rated as some of the best armor on the market and if it can keep me safe then I can keep the people safe on my team and in our community.
Congratulations to our latest winners!
If YOU or anybody you know is interested in applying to be a Guardian Angel, click here.
All of our Guardian Angels will receive a free Concealable Multi-Threat Vest Level IIIA from Safe Life Defense in their size with our perfect fit guarantee! Click here to learn more!