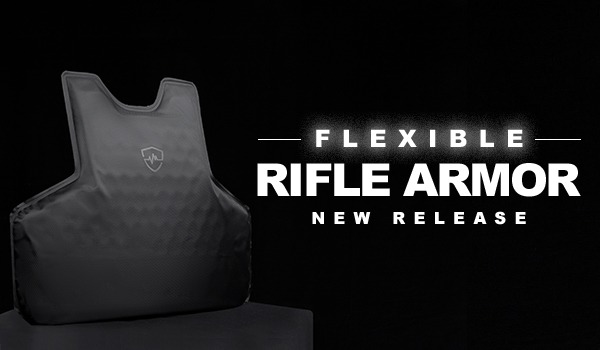 Includes 1 Safe Life Defense Uniform Shirt Carrier, Flexible Rifle Armor Panels (FRAS), 2 Uniform Comfort Straps and 1 Name Tag Patch.
FEATURES
TRULY FLEXIBLE RIFLE ARMOR: Conforms and Feels like Soft Armor
Rated For .223/5.56 and 7.62×39

Blunt Force Protection: Well within NIJ .06 limits of 44mm

Handgun, Shotgun, Strike, Slash, Stab & Taser Resistant

Spike Rating: NIJ Level 3 up to 65 Joules of Force

360° Wrap Around Protection: Full Front, Rear and Side Coverage
Extreme Comfort: Easy to Wear for 12+ Hours
Class A Dress Shirt Styling
Fully Adjustable Shoulder Straps
Adjustable and Removable Shoulder Epaulets
4 Point Adjustable Uniform Style Comfort Straps
Body Cam/Mic Attachment Loop
Removable and Customizable Name Tag
6 Storage Pockets

2 Chest, 2 Lower, 1 Hidden Center, 1 Hidden Pen Pocket

Reinforced Badge Attachment Point
Constructed of 600d water resistant polyester

30 Day Fit and Satisfaction Guarantee

5 Year Warranty and Incident Guarantee

PAYMENT PLAN: No Interest and No Credit Check through Quadpay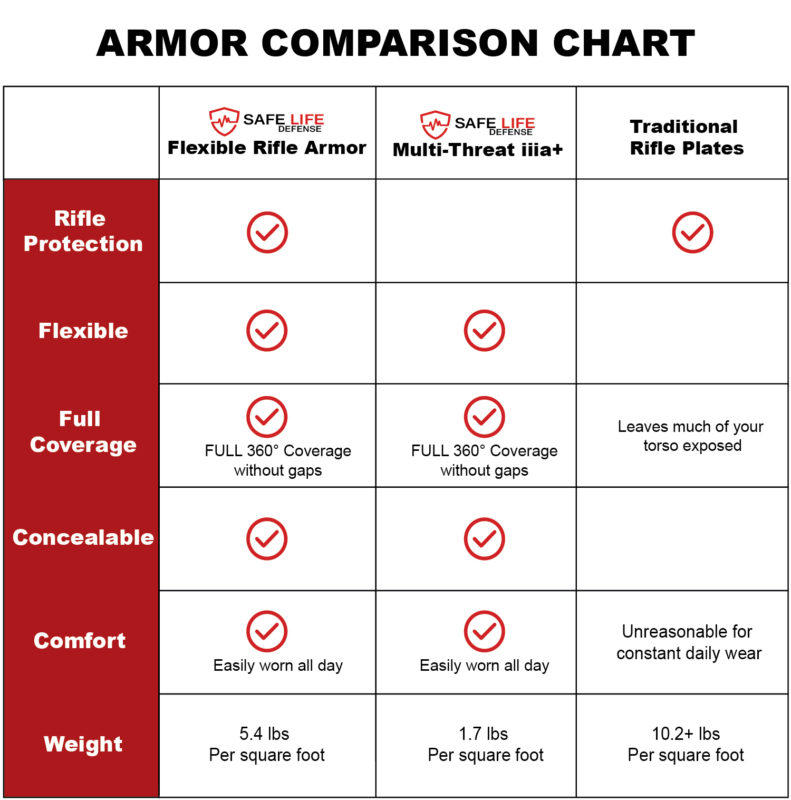 FRAS
Safe Life Defense Flexible Rifle Armor is easy to wear all day, every day, and can even be worn concealed! Offering advanced rifle protection, it is rated to defend against all the most common .223 and 5.56 rounds including Green Tip, M193, M855 and SS109. This armor is also rated to stop 7.62×39 lead core ammo. In addition, it protects against all the most common handgun and shotgun rounds as well as strikes, slashes, stabs and tasers.
BFD RATINGS
Even though the FRAS panel is flexible the blunt force protection is the same as traditional hard rifle armor! All ratings are well within the NIJ 0101.07 standard of 44mm for Backface Deformation (BFD).   FRAS Ballistic Test
COMFORT
From the first moment you try it on, you will appreciate the comfort of Safe Life Defense Flexible Rifle Armor. The FRAS feels just like soft armor and is worn the same way. Guaranteed to be the most comfortable rifle protection you will ever wear!
COVERAGE
Unlike traditional rifle plates that leave many areas of your body vulnerable, Safe Life Defense Flexible Rifle Armor covers your ENTIRE torso. This extra coverage is achieved without any additional weight!  On average, two Safe Life Defense Level .223/5.56 panels weigh only 16 pounds making them much lighter than most steel and ceramic plate sets on the market.
INTERCHANGEABLE PARTS
The FRAS panels look and feel just like normal soft armor and can be used in any Safe Life Defense carrier: First Response, Tactical, USC, or Concealable.
FIT GUARANTEE
Safe Life Defense guarantees the proper fit of your Flexible Rifle Armor.  If you feel your vest does not fit properly, we will exchange it free of charge. Exchanges must be within 30 days of delivery and in original condition.
INCIDENT GUARANTEE
Safe Life Defense stands behind our products and your personal protection. In the unfortunate event that you are shot while wearing your vest, we will replace it at no cost as long as a police report is provided, and the armor is within its warranty.
WARRANTY
5 Year Warranty from manufacture date on all ballistic panels.
PAYMENT PLANS
Safe Life Defense offers payment plans through our partnership with Quadpay.  To use our payment plan, click the red "Add to Cart" button on any product page.  Once in your shopping cart, click the teal "Checkout With Payment Plan" button. Quadpay will divide your order into 4 equal payments with no interest or credit check. All in stock items ship same day with your first payment, so you can get the body armor you need immediately without waiting.