Posted by Morgan Hallenbeck on 11th Aug 2021
Opting to wear a belt is an easy way to make your attire look more polished, but the benefits of using one reach far beyond making any kind of fashion statement. Often seen as an essential piece of one's wardrobe or work attire, high-quality belts are a must for many. The problem is that finding a good fit for your needs can be difficult and even overwhelming. There are many things to consider beyond the fact that they're meant to hold your pants up. At Safe Life Defense, we want to make choosing the right option for your lifestyle as easy as possible.
Who Needs Belts Anyway?
If you're reading this right now, it might be because your pants just don't fit properly, your weight fluctuates frequently, you've experienced the appearance of the dreaded plumber's crack or you're just not satisfied with everything else you've looked at. Regardless of your "why" we're here to help everyone fit their best fit.
It all starts with considering your individual needs. Are you looking for a belt for personal use, professional use or both? Would you prefer a one size fits all option or something that is adjustable? What does your belt need to hold and for how long? Since there isn't a universal option for everyone, it's up to you to select a belt that covers all of your bases.
If you're a civilian, you might be looking at belts for daily wear, securing your cell phone, recreational activities (like hiking) and even yard work. Those who carry concealed and own firearms will want to consider the fact that a good belt can aid with printing and brandishing issues. These are things that could get you into legal trouble depending on your local laws and the acceptance of a self-defense lifestyle in your community.
For professionals, belt selection is often about comfort on the job, ease of access, the security of gear, and optimal retention for any tools or weapons. Next to your command presence, attitude and duty weapon, a belt is one of the most essential tools you'll utilize on a daily basis. It needs to fit your holster, magazines, radio, handcuffs, Taser, pepper spray, baton, flashlight and everything else.
No matter what your needs are, here's another thought to ponder: There's something to be said for having all of the basics you need arranged in an orderly fashion that is readily available when you need it. Belts can also be used in a pinch for many different emergency situations. Because it's an item you have on your person almost all of the time, they can be easily deployed as a rough tourniquet to stop bleeding.
5 Considerations for Purchasing
Finding a good belt is important and you should definitely be looking into whether or not your selection has a proven track record. There's a lot of talk about basketweave being preferential since it's both tough and adds a touch of ornamentation, but that's not to say this is the best option out there. Let's get into the top things you should consider below:
Comfort: Nylon, leather and so many other materials exist for you to choose from. Keep in mind the stiffness of each material, how long you'll be wearing it for on average, whether or not it will be easy for you to move freely, if it's adjustable, the time it will take to break in and your body shape. Materials that tend to conform to your body over time often lose some of their strength as well.
Practicality: Getting geared up can feel like half of the battle, but what about those moments during the day when you need to take it off? So many systems leave room for grave error with dangling pouches and dropped tools of the trade. You should be able to take your belt off with ease and get it back into action quickly if need be. On top of this, you must also consider rigidity, bounce, buckle strength and how easily you can get to any attached items. For those with duty gear, your life could be on the line if you can't deploy reasonable force efficiently.
Compatibility: What you want needs to work with what you have. Adjustability is key for getting a new belt that works well with your existing gear. It's why our belts were crafted to be load-bearing and with this in mind. We suggest marking out where you'd like all of our gear to be placed upon initial setup. You don't want to find yourself in a scenario where your holster is too far forward, your cases are too far back or your keepers are scattered all over the place. And if you hit some snags along the way, don't hesitate to ask someone with experience. Oftentimes, the best resolution can come from learning amidst our peers.
Price: Just like any other piece of gear, a good belt is an investment. When it comes down to the price, if you don't pay much for something, it's probably of lesser quality. If you pay slightly more for something, it's likely to be of greater quality. Sure, it's nice to have a high-end belt you can use with a great pair of blue jeans, but that's not what's most important. What really matters is that you're getting the best possible product that will stand the test of time and something that's backed by a helpful warranty. At Safe Life Defense, we want our belt to be the only one you need, not the one you replace every year. It's why all belt purchases are backed by a 30-day fit and satisfaction guarantee and are under a full, lifetime warranty.
Reviews: Consumers speak for themselves! If you're wondering what other people's experiences with certain products are, check out the reviews. It's the best way to get first-hand information about that next item on your shopping list. Products that have been tested out by real people with positive reviews are more likely to leave you satisfied as well. If individual product reviews aren't available, hit the web for information on the company and what people had to say about their experience.
Here are just a few of the raving belt reviews from our customers:
"Best duty belt I've ever had. Only duty belt I want from now on."
— Richard H.
"Comfortable even working overtime after a 10-hour shift. Personally, I've yet to see a better product out there."
— Zac G.
"I have been wearing a gun belt of some sort for 35 years! This belt is first-class. Best belt I have ever worn … ps your customer service is top-notch."
— Sgt J. Howland
Unmatched and Made In America
There's always room for improvement, which is why when we saw a need for better performance and functionality the Safe Life Defense Team set out to create something superior. After extensive research, hands-on workmanship and a whole lot of testing, we were able to engineer a custom belt in-house from the finest materials. The end result? A 100% USA-made minimalist system with maximum efficiency that's unmatched by any other of its kind. There are now 3 options to choose from as well: The Tactical Belt, Classic Duty Belt and Under Belt. Each comes in a variety of unisex sizes and you can choose from either black, coyote tan or OD colors.
The Tactical Belt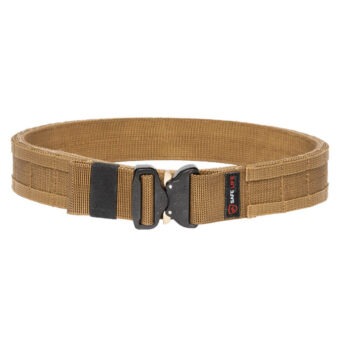 This 2" width dual-layer system consists of both an inner and outer belt so you can replace your worn duty belt, ditch your belt keepers and that extra bulk, too. We'll get to additional information on inner belts later (See the under belt section.), but with added features and adjustable sizing, you're sure to get a perfect fit.
The outer belt is the load-bearing system that pairs with and locks into the inner belt. It's constructed with exclusive Safe Life Defense double-layer, ultra-rigid nylon webbing that's as sturdy as a steel-reinforced belt without any of the added weight or thickness. It is made from two rows of high strength Micro MOLLE webbing that allows you to use standard 2″ or 2.25″ duty pouches or MOLLE compatible pouches simultaneously. For a secure fit, we use a Genuine AustriAlpin Cobra Buckle Closure.
The Classic Duty Belt
Quite similar to our Tactical Belt, and formerly known as the Slick Belt, this option offers many of the same features but is distinguishable by the outer belt which is simplified for a minimalist design. It is rigid and sturdy enough for all your gear and then some! Both of these options come with the under belt already included.
The Under Belt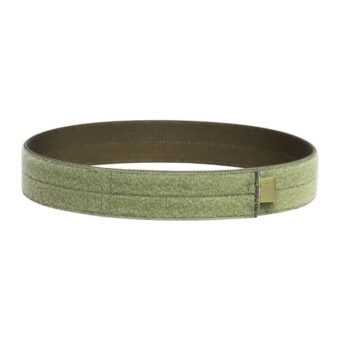 For those wondering, "Why bother with an under belt?" This section is for you! Load-bearing belts by definition are heavy-duty, thick and exceptionally strong. The issue here is that the aforementioned qualities can render them incapable of being fed through standard belt loops on your pants. The solution to this problem is known as an under belt or "inside belt." If you wish to wear a duty belt, you will likely need an under belt that's sized to work with the loops on your pants. The use of an under belt applies to nearly all standard duty belts regardless of whether they are made from leather or nylon.
The Safe Life Defense Under Belt is part of our dual-layer belt system. The idea behind this belt is that you weave it through the loops on your pants. After that, you bring the duty belt up around your waist and over the under belt for an extremely secure fit. It's a truly ingenious model that eliminates the need for a belt keeper because it can be worn like a normal belt. So, why add on extra equipment when you don't need it? That's a thing of the past!
It is constructed of heavy-duty Nylon Scuba Webbing, suitable for EDC use and has a tapered end compatible with nearly all belt loops. This makes for easy threading with hook and loop closure, so no bulky buckles are needed. You can buy one as a backup or use it in conjunction with any compatible gear you may already have. Either way, it's an excellent option for eliminating common shifting, sagging and bouncing issues. For the best experience, we suggest using the entire system together.
A Click of Confidence
When we set out to take the belt options available to consumers to the next level, our goal was to create the only belt you'll ever need. Thus far, feedback from our customers has been just that! It's why we back our belts and also:
Guarantee the proper fit of your belt within 30 days of delivery.
Accept exchanges and returns of belts in original condition.
Don't require an alternative reason for your refund if you're simply not happy.
Offer a 2-year manufacturer's warranty on all belts.
Ready to get a better belt for work or play? When you choose to purchase from Safe Life Defense "add to cart" isn't the only thing you'll be able to click with confidence. Each day when you put on your belt and hear that buckle click, you can feel good knowing that once you step out that door we've you covered! We hope this article was helpful for you to find the option that fits your lifestyle best. As always, if you have any questions, don't hesitate to call our American-based Customer Service Team at 702-829-4029 or send us a message today.