Posted by Maren McElroy on 14th May 2020
This month, we are awarding our Guardian Angels BOTH body armor and KN95 masks.
Read about our three new Guardian Angels for the month of May below!
1. Tito Jones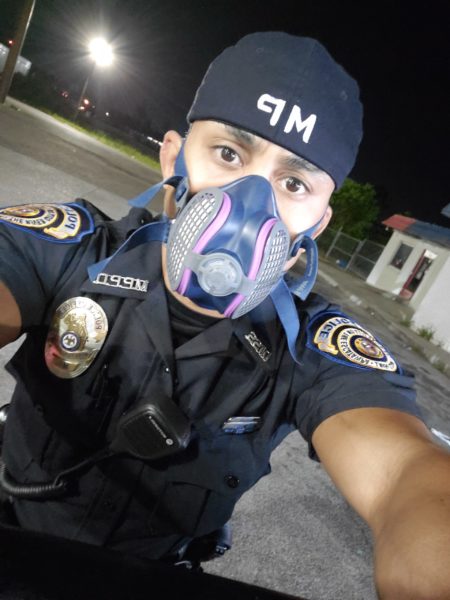 We chose Tito because of his complete dedication to his community. He has a passion to making sure that his town has a brighter future.
Thank you Tito.
Tito's Story:
"I'm a rookie cop that works in Mississippi. Where I work has one of the highest crime rates per capita for the state of Mississippi.
I'm originally a Florida native (Panama City) and I decided to take the job in Mississippi because I saw it as an opportunity to live what I'm about.
The community that I work in is an underserved minority community that ranks low on the socioeconomic spectrum.
The department I work for has a high turnover rate because of the low pay and risks aren't worthwhile for many.
For me, it's the opposite. I want to work in those environments that many others wouldn't because it's those environments that need the help of well-meaning people the most.
During my first 7 weeks on the job there were seven shootings, three of which resulted in homicides. It was an eye-opener as a rookie cop. One of those shootings I was one of the first on the scene. That shooting involved an innocent couple who were shot down due to mistaken identity, and the weapon of choice the suspect used was a Draco 7.62 X 39...
I saw first hand the carnage of what an AK round can do to a vehicle, and worse, a human body. Reality sunk in, and a deep sense of vulnerability in knowing that the soft vest that I was issued by the department would stand no chance against a lot of what the criminals have their hands on out there.
I would like to have the added confidence of what one of your vests can give.
Safe Life Defense has one of the few soft vests that can allow the addition of plates, which would give me a much better sense of safety while on the job.
I signed up for my line of work to be the change that I want to see, and in my community I pride myself on showing the community that I'm a cop that actually really cares for them.
If you guys could help me be able to do that more safely it would be greatly appreciated.
I truly am 100% passionate about being a positive representative of law enforcement in this country.
Times have changed, and law enforcement has been under a lot of scrutiny. I have no problem admitting that I believe that some of that scrutiny is deserved, which is also why I have chosen to enter this career field so that I can be that change that I wish to see.
I work in a small department of about 20 officers; funding is limited and the city I work for struggles economically.
Your body armor would be a blessing, and it would be utilized by someone who not only is passionate about his work, but also deeply passionate about helping bring the greater good and compassion into the world that it desperately needs in our time."
2. Russell Stendal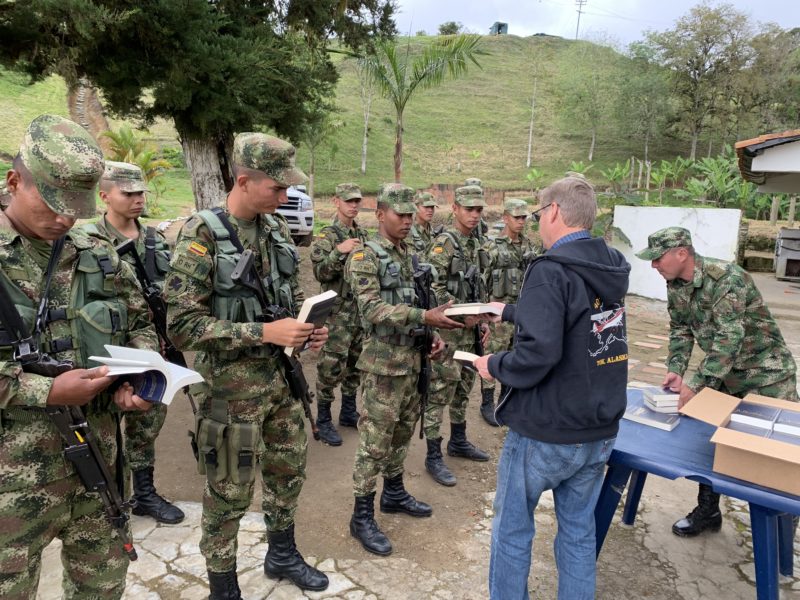 We chose Russell for his incredible bravery in the face of what most people would feel is impossible. We truly appreciate his spirit and that of his family.
Thank you Russell and the Stendal family!
Russell's Story:
"Our family is a missionary family to the country of Colombia.
My father was kidnapped in 1982 by the FARC Guerrillas and held hostage for 5 months. During his captivity he realized that his kidnappers, mostly very young people, were more captive than he was.
People were looking for ways to release him but no one was looking for ways to help release those who were many times forced to be in the FARC.
After his release he made it his life mission to reach those that had kidnapped him and get them to turn themselves into the proper authorities, and hopefully surrender themselves to God.
This is what we do. We go into places most people would deem too dangerous and put our lives on the line so that people may hear a different message of hope that they would turn from their violent ways into a more law-abiding way of life.
Body armor is a further way to mitigate the risk we already put ourselves into day in and day out. It means more peace of mind for our families who support us and stay home during our long trips into the unknown.
It means another tool in our toolbox that will help us, help others.
We do not have the budget to purchase body armor. But we feel as if it would give us some peace of mind to have body armor to be able to travel through some of the most difficult places in Colombia that are overrun by bandits, terrorists and drug traffickers.
We travel through areas that are deemed a level 4 threat by the US State Department places in Colombia like Cauca, Choco, Nariño, Meta.
https://travel.state.gov/content/travel/en/traveladvisories/traveladvisories/colombia-travel-advisory.html
Please consider donating this armor to use."
3. Jacob Fox
We chose Jacob for his passion for helping his community and brothers in blue. It's an honorable thing to want to help those who are helping others.
Thank you Jacob.
Jacob's Story:
"I'm a career/volunteer firefighter and EMT. My career department has supplied vests for us due to our area developing the SAVE program.
The SAVE program integrates EMS crews with law enforcement teams to quickly enter, search, and remove victims of mass shootings.
However, my part-time and volunteer departments I run with do not have the budget to provide vests, and therefore have not adopted the program.
My career department is Boone County, Kentucky which is a suburb county to Cincinnati, Ohio. I love and volunteer in Grant County, Kentucky, which is the county south of Boone.
It's a lot more rural and less fortunate for finding programs like this. Being SAVE certified and having personal body armor would allow me to take a skill from my career department and offer that to my hometown.
In the unfortunate event of a mass shooting I could then enter with law enforcement and potentially help save lives. With limited resources and mutual aid having long response times, being a part of the initial response would insure a quick rescue for victims.
The county I live and volunteer in is limited in law enforcement. So much so that on a normal day we have 2 deputies out for an entire county.
These circumstances have created a very tight knit partnership between fire/EMS and law enforcement.
Meaning, if one of our officers or deputies gets in trouble, they know that we the fire/EMS guys are gonna come screaming to help them due to law enforcement back up sometimes being 30 minutes to 1 hour away.
Having personal body armor would give me just another tool in my tool box to protect me in the event one of my brothers in blue needs help and I just happen to be the closest to him for that need."
Are you or someone you know interested in becoming a Guardian Angel? You can apply here to have a chance at being chosen next month or you can click here to learn more about our armor!
Stay Safe Everyone.